Unternehmerperspektiven 2019 in Brussels
How secure are the markets? Managing risks in international business Unternehmerperspektiven comes to Belgium for the first time
"Ladies and gentlemen, today we are making history together" – with these words, Martin Keller, Country CEO of Commerzbank Belgium and Luxembourg, welcomed his guests to the prestigious Cercle de Lorraine on 5 November 2019. The Unternehmerperspektiven event took place in Belgium for the first time. Interest was so overwhelming that many interested entrepreneurs gathered well before the official start.
It all began in 2006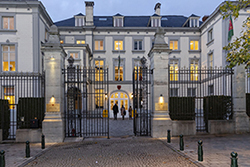 First of all, the most important question for Belgian participants: What is the Unternehmerperspektiven initiative actually about? Martin Keller provided the answer and explained that the main aim of this initiative, launched in 2006, was and remains to find out what entrepreneurs are influenced by in their daily work. Which trends preoccupy them? What challenges do they have to face today or in the near future? The task of the initiative is to address these questions and discuss them in a network made up of businesses, associations, scientists and politicians.
In times of globalisation, it is almost impossible to distinguish international markets, especially when two markets happen to be direct neighbours. What affects companies in Germany is also relevant to Belgium – and vice versa. It was therefore found logical to present the German study to Belgian entrepreneurs as well.
Exchanging ideas against protectionism
It was thus no wonder that the topic "How secure are the markets? Managing risks in international business" was also very well received in Brussels. "One can sense it in Belgium too: we are in times of global economic turbulence. Hardly a day goes by without countries and markets from all over the world making headlines", observed Martin Keller. However, the uncertainties surrounding Brexit, trade conflicts and so on are factors that entrepreneurs are obliged to deal with. Because – and this was something that the study clearly confirmed – internationalisation is still a growth factor.
Towards a common Europe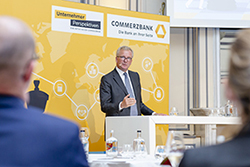 This view was underlined by the high-profile experts who were present, such as Dr Holger Bingmann, who is President of BGA, the German trade association of wholesale, foreign trade und service sector and the founder of the Unternehmerperspektiven survey. Alongside numerous entertaining anecdotes, his exciting keynote speech was built on a clear key statement: "We need Europe". In his opinion, there is no way around the fact that China will be the future world market leader. On the other hand, we still have the strong USA. Europe is being hit hard by the conflicts between the two powers, which is why Dr Bingmann believes it should concentrate more on intra-European trade. "Naturally, we entrepreneurs must look for new friends in other countries; but we should never forget our neighbours", he concluded.
DEBELUX CEO Hans-Wolfgang Busch introduced an important aspect in this respect and above all brought a lot of Belgian context to the German study. The worries of Belgian companies with regard to the deterioration of global conditions for world trade are quite similar to those voiced by German SMEs. However, he sees many of those worries as unfounded: "We often find companies that are not or not strongly internationalised frequently misjudge or overestimate risks in foreign markets." This is where AHK DEBELUX can provide concrete help through its advice and expertise.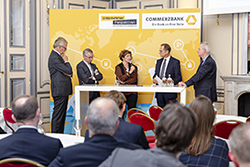 Clients agreed on this as well, but countered by pointing out that the pace of many developments is often a problem for businesses. This can be overcome above all by effective hedging and foresighted planning, which is precisely where banks are in demand. And as the entrepreneurs in the study also requested, those banks need to adapt their own range of services to these expectations. Martin Keller gratefully accepted the proposal and ended the event by clarifying: "We as a bank are more in demand than ever, both in Germany and here in Belgium, to help to manage risks. Talk to the AHK, talk to us as a bank and benefit from our expertise."
Summary
Many insights, controversial discussions and many questions from the audience: there is no doubt that the premiere in Brussels was a complete success. But what did the participants get out of the event in concrete terms? Naturally, there couldn't be a one-size-fits-all solution – but there were some promising starting points. These were discussed over the buffet long after Frank Behnke, the evening's masterful moderator, had said goodbye. Fully in the spirit of the study.
Recommendations for action: Exploit growth opportunities
1. Hedge against currency and default risks
Risk minimisation is important for smaller and medium-sized companies. Banking partners are the right port of call for this.
2. Exchange findings with successful exporters
Companies with foreign ambitions should adopt the practices of successful companies. Networking events such as Unternehmerperspektiven can help in this respect.
3. Support from chambers of foreign trade
Chambers of foreign trade can help ease the concerns of companies at a practical level and provide assistance.