FX Live Trader Web
Web-based foreign exchange trading – real-time mobile trading across all devices
Having set new standards for real-time foreign exchange trading with its FX Live Trader Web1 trading platform, Commerzbank has now significantly expanded the platform's scope of applications: the Web version now runs on all common (mobile) devices – including your tablet – and on all common operating systems. Besides real-time exchange rates, it offers even more flexibility for trading more than one hundred currency pairs.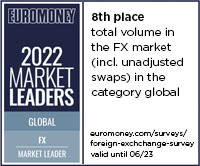 Your benefits at a glance:
Spot and forward foreign exchange trading
Real-time chart analysis tools to help make informed trading decisions
Fast, direct and easy-to-use trade execution and management
Supports all devices, operating systems and commonly-used browsers2
Alternatively, use the Corporate Banking App for mobile foreign exchange trading
Key trade entry functions, plus a historical trade overview
Easy-to-use two-factor authentication login – fast login possible via TouchID or FaceID
Approved FX Live Trader Web users can automatically access the application via the Corporate Banking App.
Apply for FX Live Trader (only in German)
Download app now
The Corporate Banking app is available for iOS and Android smartphones. You can download the app free of charge in the relevant store.
1) This offer is only valid for customers with an account managed in Germany.
2) Current versions of Google Chrome, Mozilla Firefox, Microsoft Edge or Apple Safari.